How do I create a ticket via API?
---
In order to create a ticket via API as admin, you need to add your Rest API Channel in the Raiseaticket helpdesk portal. To do so, select Settings from the top right menu bar, select Rest API Channel and Click Add Rest API Channel.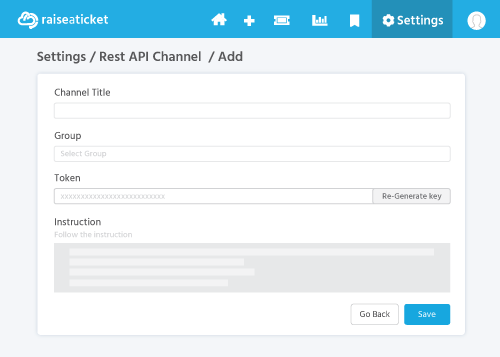 In the above screen enter your Channel Title.
Select your Group.
Generate your Token(xxxxxxxxxxxxxxxxxxxxxxxxxxxxxxxx) and then click save.
Follow the syntax below for creating a ticket via API from your application:
curl -X POST -H "Authorization: token XXXXXXXXXXXXXXXXXXXXXXXXXXXXXXXXXXXXXXX" -H 'Content-type: application/json' -H 'User-Agent: Your user agent' -d '{"email":"example@example.com","subject":"Ticket subject","description":"Ticket description","first_name":"Your first name","last_name":"your last name"}' 'https://yourdomain.raiseaticket.com/rest/channel/ticket'