How do I generate the report to evaluate the individual ticket performance with an SLA?
---
Based on your requirements you can generate custom reports for evaluating the helpdesk performance by navigating to Reports/Custom Reports.
For evaluating the individual ticket performance with an SLA, select report based on "Ticket Performance" in the custom report page. Select the date range and check the "Resolved Status" from the fields and then click generate report. The desired report will be generated in the next window.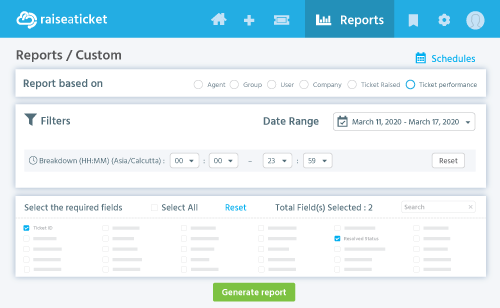 By choosing the Resolved Status in the available fields you can be able to view the status of the each resolved tickets whether it is resolved in SLA or outside SLA as shown below. You can also filter the resolved status. The generated reports can be downloaded as an excel file or mail the report to yourself and other recipients' email address.